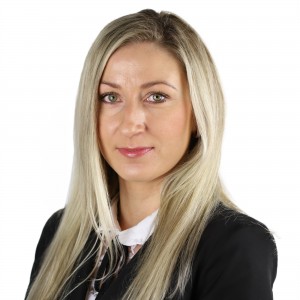 Ewa Crawford
Hertfordshire, Exeter, Milton Keynes
United Kingdom
About me
Hello and welcome to The Gel Bottle Academy, where you can start making your "nail dreams" come true. My name is Ewa and I am TGB Educator covering the Cornwall and Devon area. My journey in the Nail Industry have been crazy however some of you might find it very inspirational on how far you can come in such a short period of time. Nails have always been my passion. I have been a home user for few years before I got qualified but my real journey started when I decided to make my dreams come true and turn my passion into my job and finally start doing what I love the most, nails and become a nail technician. I have been in industry over 6 years now and I am amazed how much I have achieved over those past years.  It just proves that if your determinated, truly believe in what you do and work extremely hard you can achieve anything you wish and make your dreams come true.
Over the past 6 years I have personally trained with several well-known and talented professionals in the industry which has given me extensive knowledge, helped me improve my skills and techniques and it allows me to create an outstanding nail designs which are recognised and featured on social media regularly.  I am already planning my future courses as I believe that there is always room for improvement and in this industry you constantly need upskilling to keep up with latest trends and techniques.
I absolutely adore everything about The Gel Bottle products, I decided to switch to this brand soon after I trialled the Extreme Shine Top Coat and I got hooked straight away, as I have always been seeking and investing in the best quality products purely because I wanted to offer the highest quality and the best service for my clients.  Hence I am part of the Gel Bottle Educators team as I believe it is going to be a game changer of the nail training industry.
I am running my successful small business "Dream Nails" from home, as I have a little family to look after so that's the way I can work at the moment, however I am planning to expand soon.
I am very excited to be part of such an amazing brand. I am very much looking forward to meeting you all and can't wait to start this incredible nail journey with you alongside with the most innovative product on the market.
About Training Venue
Course location may change depending on number of students and it may be held at my home salon in Polgooth/St Austell or somewhere else. All info will be provided to students prior to their course date.
I will also be happy to travel to surrounding areas for training, provided there is suitable number of students in the class and appropriate big enough training room/ salon can be sourced or can hire a training room if the numbers were high enough.
All beginners' course students will be working on each other or themselves so I require to attend with bare natural nails. For conversion courses, the nail trainer practice hands will be provided for you to work on but if there is equal number of students you will be working on each other or yourself. Full kit list will be available via The Gel Bottle Academy, once your booking is confirmed and paid for, your kit will be sent to me, ready for you to use on the day. If you listed that you already have some of required kit products you must bring them with you so your TGB kit is complete.
I will have my amazing full colour swatch book available for you to look through with opportunity to place an order to any value with TGB with further discount that is not available on the website.
Free Parking
Complimentary Tea/Coffee
Central Location
Easy Parking
Locations
Tap on location to show map.
Hertfordshire , Watford
WD17 2AH, Watford
United Kingdom
Devon
EX5 2LJ, Exeter
United Kingdom
Landmark Property Solutions, Challenge House, Sherwood Drive
MK3 6DP, Bletchley
United Kingdom